The picture below is of a Victorian path leading up to a house in Cliftonville which is a popular residential area in the coastal town of Margate. The seaside property was generally in good repair and had retained many of its' original features. The pathway however had been subjected to the weather, and salty sea air so was looking a little worse for wear.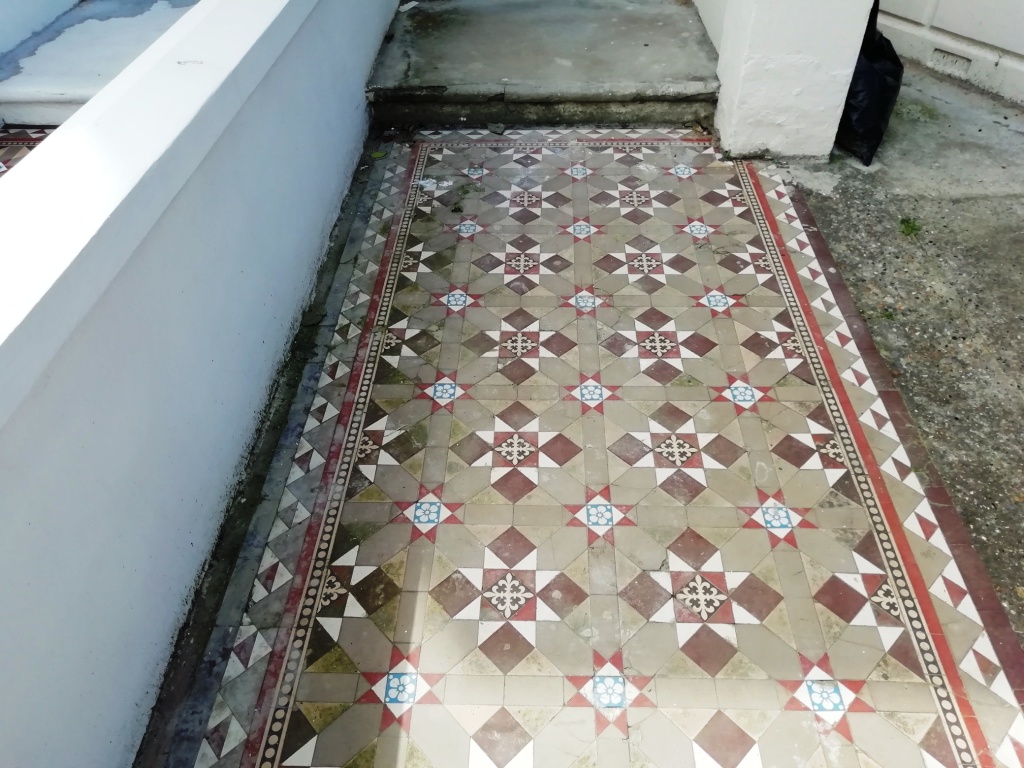 It always makes a pleasant change to be asked to carry out work outside and being located a short ten-minute drive away from the property it wasn't long before I was able to go over and take a look. I inspected the path and discussed with the client the cleaning process that was needed. They were happy to go ahead with my quote and we arranged a time to return later in the month. We kept one eye on the weather as a nice dry day would be needed.
Cleaning a Victorian Tiled Pathway
Being outdoors, for a change we didn't need to tape any surrounding areas to protect them from the clean, so we were able to get straight on with the job. The tiles had some masonry paint staining from the previous redecoration of the rendering, this was softened by spot treating with Tile Doctor Remove and Go which was left to soak in for ten minutes before being scrubbed in with a stiff brush. The paint was then carefully scraped off.
A deep clean was then carried out using a rotary floor cleaning machine fitted with a black scrubbing pad which was used to work in a strong dilution of Tile Doctor Pro-Clean. This had an immediate effect and it wasn't long before the dirt was being lifted out of the pores of the tile. The pathway was then rinsed, and the resulting slurry extracted with a wet vacuum.
The path was looking much improved so once I was happy all the dirt had been removed it was left to dry out. There were a few loose tiles were lifted and secured back in place using a flexible floor tile adhesive rated for external use.
Sealing a Victorian Tiled Pathway
The dry weather continued so I was able to return the following day and complete the project. Before sealing I resurfaced some of the tiles using a hand buffer fitted with a 400-grit burnishing pad and a little water to give the surface a consistent finish.
The last step was to apply three coats of Tile Doctor Colour Grow which is a fully breathable impregnating sealer that will cope with the damp external conditions. It also provides durable protection and has the added benefit of improving the colours in the tile.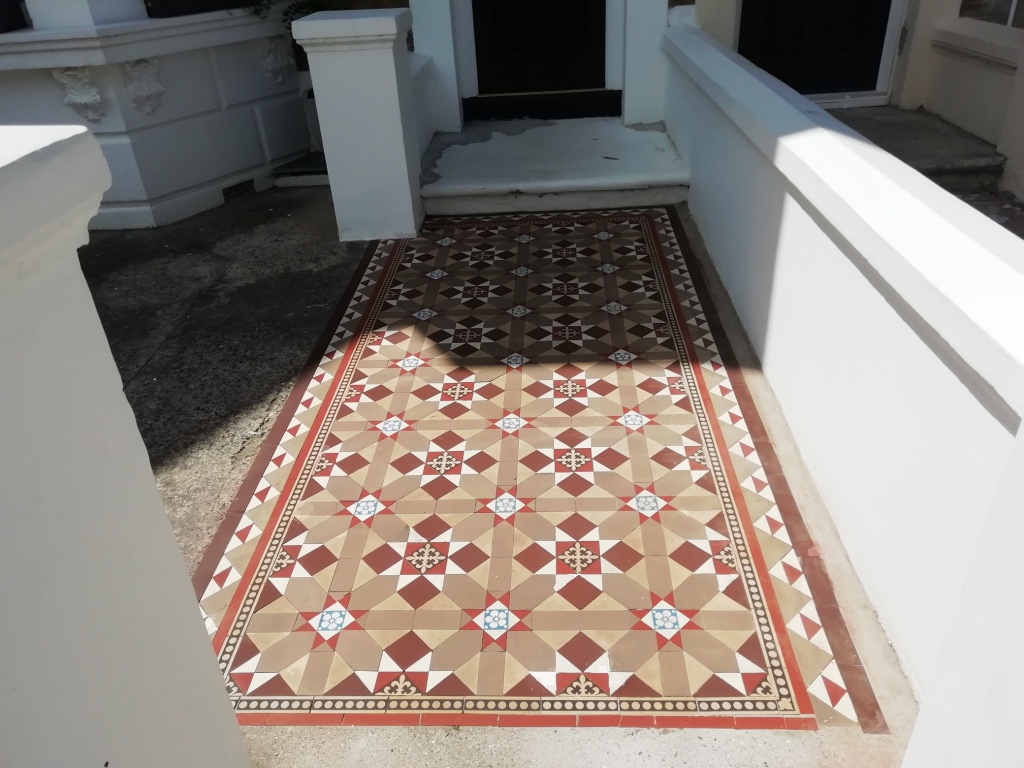 The path looked great after completion, the Victorian pattern looked lovely and the new sealer will ensure it is a lot easier to keep clean going forward. I discussed aftercare before leaving and recommended the use the Tile Doctor Neutral Tile Cleaner, its concentrated product so a one litre bottle goes a long way and won't harm the newly applied sealer. Most supermarket tile cleaning products are not pH neutral and too strong to use on a sealed surface.
Source: Victorian Tile and Path Cleaning and Restoration Service in Margate, Kent